Where will Argentina vs Mexico matches be played? Dates, times & stadia for national team friendlies 13:52 06/11/2018 Gett...
Where will Argentina vs Mexico matches be played? Dates, times & stadia for national team friendlies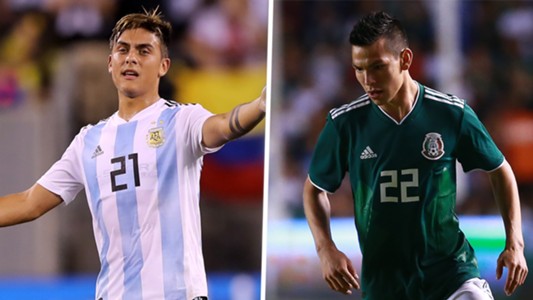 Getty/Goal composite El Tri will head to the central and western portions of the South American nation to close out their 2018 slate
Mexico's two November international friendlies against Argentina have confirmed locations in the South American nation, with the host cities and stadia revealed in late October.
With many European teams in UEFA Nations League action and several countries in the region already booked up for the November window, Argentina and Mexico are taking the unconventional step of meeting twice in one window.
The first match, which will take place on Friday November 16 will be held in Cordoba , with kick off at the Estadio Mario A. Kempes at 9pm local time (7pm US ET) .
Editors' Picks
Four days later, on Tuesday November 20 , the teams will meet in Mendoza , near the Chile border, at the Estadio Malvinas Argentinas . Kick off for the fixture will also be at 9pm local time (7pm US ET) .
Each nation is being led by an interim manager, though that's expected to change after this slate of friendly matches with Argentina preparing for the 2019 Copa America and Mexico looking toward the 2019 Gold Cup.
The matches will be the first time since the 2015 Copa America that El Tri has played in South America, with friendly matches generally taking place in the United States.
Who will play for Mexico & Argentina?
Mexico interim boss Ricardo "Tuca" Ferretti has utilized a young group of players.
PSV star Hirving Lozano, club teammate Erick Gutierrez and Wolves forward Raul Jimenez have been part of each call-up overseen by the Tigres manager, but the majority of players are young and lack the World Cup experience those players boast.
This window, however, could see the return of players like West Ham forward Javier "Chicharito" Hernandez and Real Sociedad center back Hector Moreno - though both are working to gain starting minutes with their clubs.
Argentina's caretaker, Lionel Scaloni, named his squad on November 1 with Erik Lamela called up following an excellent start to the season at Tottenham following his return from injury.
Scaloni hadn't called upon Lionel Messi for the two international breaks since the World Cup as the Barcelona is on a hiatus from Argentina duty.
Any slim possibility that Messi could return for the Albiceleste was ended when he broke his arm in October - an injury that was expected to keep him off the field for three weeks.
The interim coach also recalled Juventus forward Paulo Dybala, Inter striker Mauro Icardi and Manchester City defender Nicolas Otamendi, all of whom were involved in games against Iraq and Brazil in October.
The matches will cap a busy 2018 for the Mexico national team, marking the 15th and 16th outings for El Tri in a year that saw another elimination in the round of 16 at the World Cup, once again delaying the goal of arriving at a fifth game on foreign soil.
Source:
Google News Argentina
|
Netizen 24 Argentina