Pekerman, Sabella and the top candidates to manage Messi & Argentina after World Cup failure 22:00 Getty With...
Pekerman, Sabella and the top candidates to manage Messi & Argentina after World Cup failure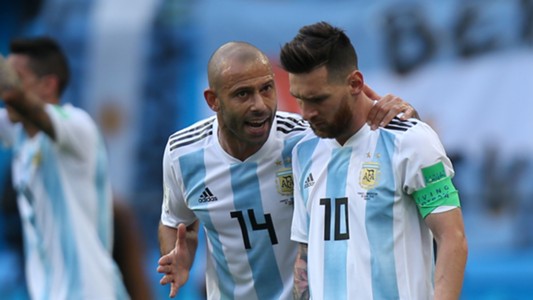 Getty With Jorge Sampaoli now out of the Albiceleste, two former coaches are in the running to take over following last-16 elimination in Russia
The top job at the Argentina national team is vacant for the third time in as many years, and unlike 12 months ago those in charge seem at a loss as to how to fill that crucial position.
"He is the best coach in the world," AFA president Claudio Tapia had said of Jorge Sampaoli in 2017 as the highly regarded former Sevilla and Chile boss took charge from Edgardo Bauza.
Sampaoli had been a near-unanimous choice for the role, wooed from La Liga with the promise of recreating his beloved Seleccion in his own image in a five-year project that would culminate in Qatar 2022.
Related
Messi sits out Barcelona's International Champions Cup campaign
Beating 'Messi's Argentina' boosted France's World Cup belief â€" Lloris
Maradona brands nephew 'coward' on live TV
How 'vulture' Paul Singer and U.S hedge fund in charge of AC Milan held Argentina to $2.4bn ransom
But the experiment was cut short after just a single year, after Argentina were eliminated from the World Cup in Russia with a thrilling yet chaotic defeat at the hands of eventual winners France.
While the Albiceleste only tasted defeat against the champions and finalists Croatia, it was the manner of their elimination that sealed Sa mpaoli's fate. Unsure tactically and unpopular with both fans and media for his abrasive, distant behaviour, a series of errors left the Casilda native with only nominal control of his team amid rumours that Lionel Messi and Javier Mascherano had staged a dressing room coup, and ultimately zero authority to stay in his job.
Now the AFA sit down again to choose Sampaoli's successor, and it may prove to be a daunting task. With the likes of Diego Simeone and Mauricio Pochettino virtual impossibilities due to the nation's precarious economic state only a handful of names appear as real candidates - including two men who know all about life in the hotseat of one of the planet's most demanding jobs.
Alejandro Sabella
The heat of the World Cup, a tough former Yugoslav republic in opposition and a much-criticised three-man defence that failed to spark. If that scenario sounds familiar, that is because Alejandro Sabella tried exactly the same tactical gambit back in 2014 that four years later would make Sampaoli a figure of ridicule as his Argentina were put to the sword by Croatia.
Sabella, however, saw his error in time, helped, apparently, by a frank analysis delivered by captain Lionel Messi at half-time after Argentina failed to make an impact against Bosnia & Herzegovina in their World Cup opener.
The back three was banished and the rest, as they say, is history: the Albiceleste battled through to the final in Brazil and Sabella, derided prior to the World Cup, was feted as a hero.
That nostalgia has led to the veteran ex-Estudiantes boss rising once more to the top of the AFA's shortlist. Sabella is seen as the perfect sh ort-team option to steady the ship over the next 12 months and lead the nation into the Copa America, before handing over control to Pochettino or Simeone and moving upstairs to take a directorial role overseeing Argentina's ailing youth divisions.
Sabella's track record speaks for itself, and he has the respect of all those connected with the national team. But it is hardly the far-sighted appointment needed in a team that looked jaded and past its peak in Russia, with a clear need to rebuild. The 63-year-old has also suffered deeply from health issues recently, and one must wonder if he would want such grave responsibility at this point in his recovery.
Jose Pekerman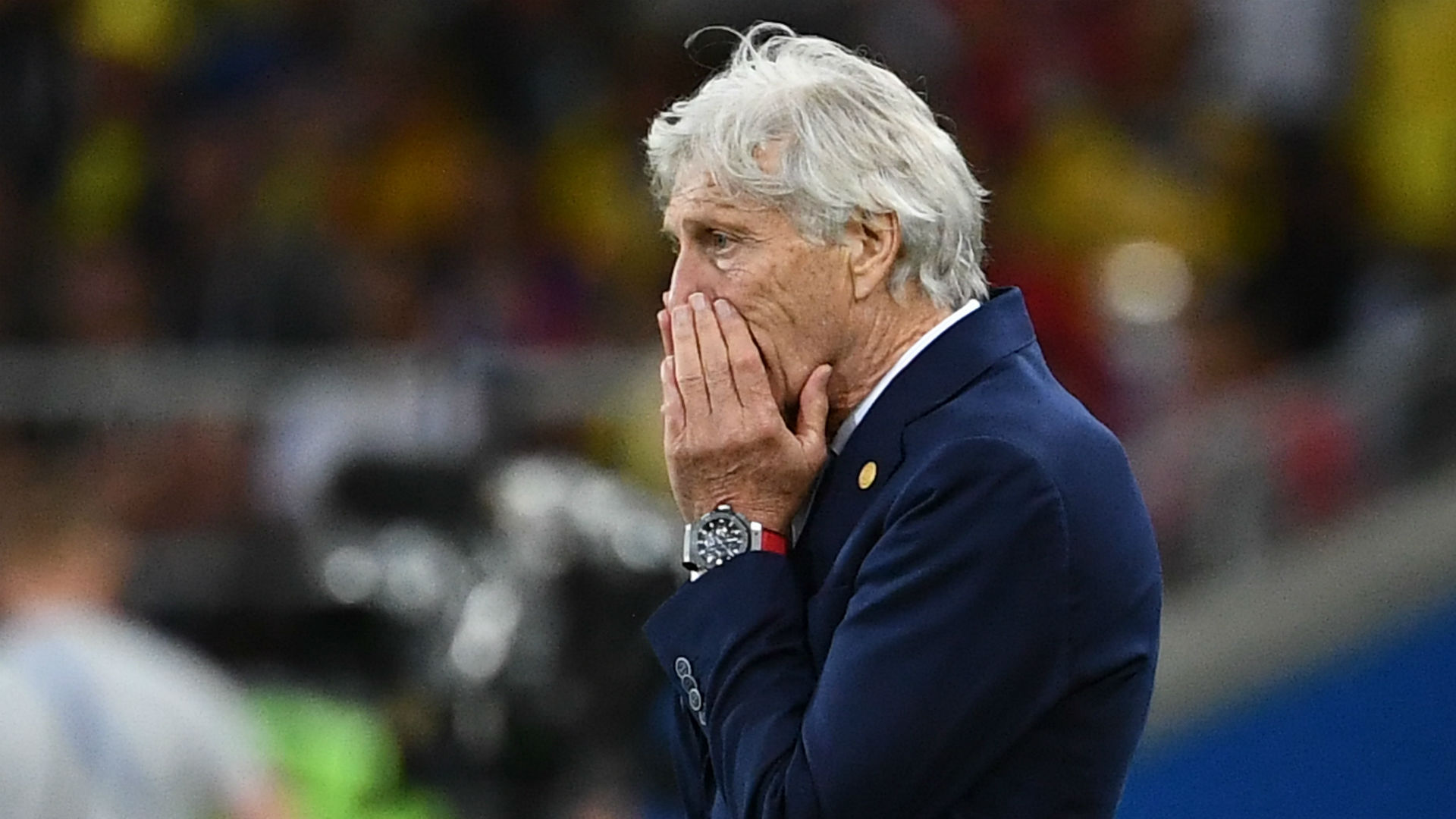 Like Sabella, Jose Pekerman enjoys a stellar reputatio n within the Argentina set-up, although admittedly more for his work with the nation's youth structure - he pioneered the development of a system that delivered back-to-back Under-20 World Cups in 2005 and 2007 and also produced the likes of Messi, Sergio Aguero, Angel Di Maria and Sergio Romero to name just a few Seleccion starters - than a disappointing 2006 World Cup exit to Germany.
The 68-year-old coach has also been lauded for his work with Colombia, leading the Cafeteros to two consecutive World Cup knock-out stages for the first time in history and returning to Bogota to a standing ovation in 2018.
He is yet to confirm whether he will stay on at the South American nation, though, having held the reins since 2012, while the likes of Juan Carlos Osorio and Reinaldo Romero have already expressed their interest in taking over. Argentina are also attentive, with Pekerman looming large either for a second spell as coach or to reprise his role as sporting direc tor.
The ball is ultimately in Pekerman's court, and if he chooses to continue his work with Colombia the AFA will have to discard him as a possible candidate. At 68, too, his willingness to accept this most stressful of jobs must be in doubt; an advisory position at this point appears the most likely option if he does come back to Buenos Aires.
Ricardo Gareca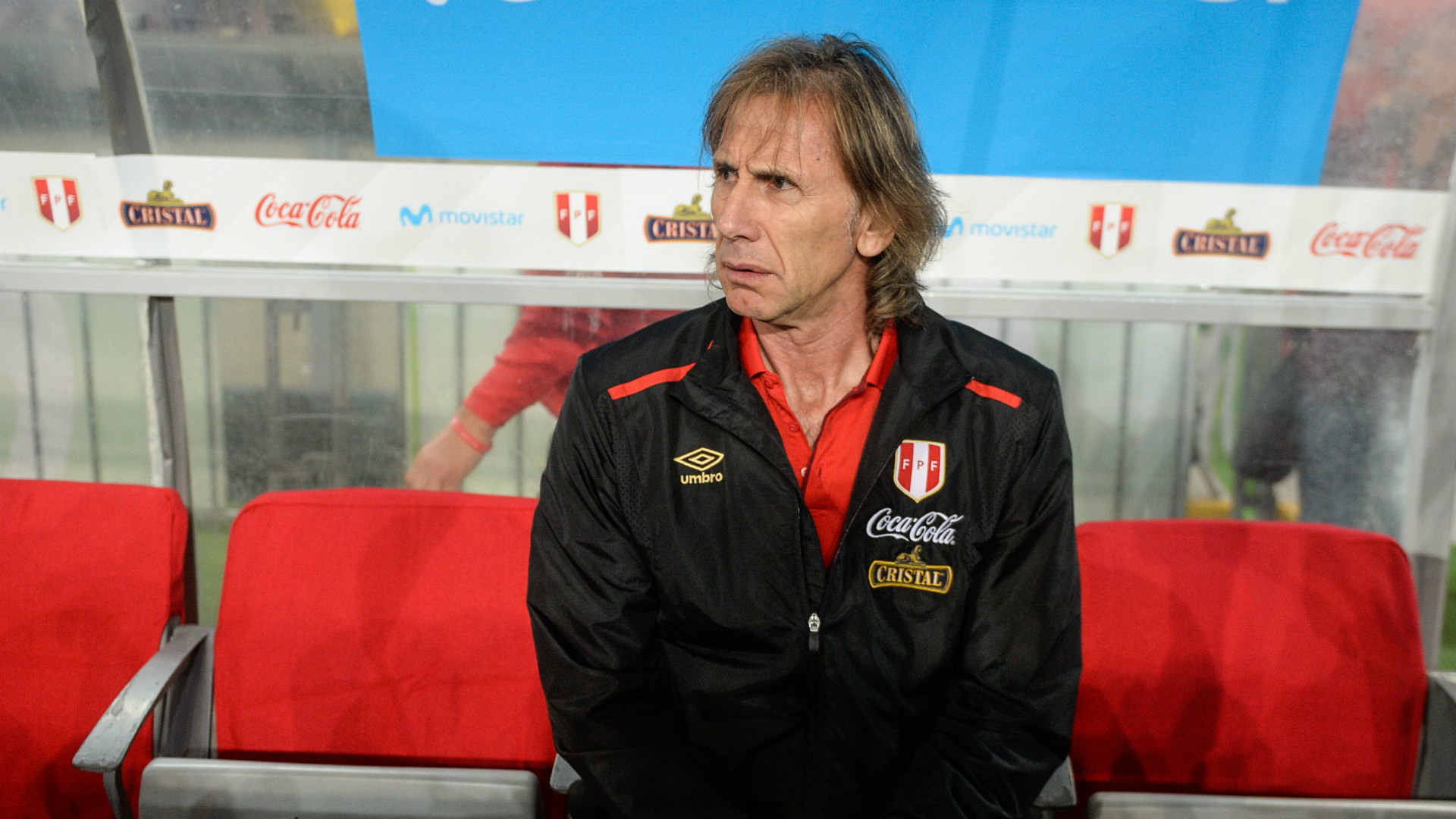 This ex-Velez Sarsfield and Palmeiras coach may be a dead ringer for 70s punk icon Iggy Pop, but it is his lust for dynamic, attacking football that has made him a candidate to swap Peru for Argentina.
Gareca became a cult hero in Peru after leading the Inca to their first World Cup since 1982, and while they went out in the first round his team left a positive impression on Russia. It is the youth and verve th at unfortunate team showed that really marks him out to Tapia.
During his three-year tenure Gareca successfully ushered in a new generation of talent, with the likes of Renato Tapia, Christian Cueva, Edison Flores and Miguel Trauco breaking through under his eye. That sort of renovation is just what Argentina need after years of persisting with an ageing squad, and if El Tigre opts to leave Peru - a recent corruption scandal involving FA president Edwin Oviedo has pushed him closer to the exit - the Albiceleste will doubtlessly be in touch.
But while he comes with a solid name behind him the coach is still relatively unproven when it comes to delivering top trophies. His last club job at Palmeiras ended in utter disaster, and a Primera Division title with Velez back in 2012 marks the last major crown lifted by Gareca.
Matias Almeyda
While the three men named above have all passed their 60th birthday, fellow candidate Matias Almeyda represents a younger generation of coaching talent eager to have the chance to shine. The ex-River Plate and Chivas boss certainly does not lack motivation to take on the Argentina job: "I would dive in head-first, who wouldn't?" he said following Sampaoli's exit.
Almeyda started his coaching career at the deep end, guiding River Plate to promotion in his first season in charge just one year after suffering historic relegation as a player. After leaving his beloved Millonario El Pelado repeated the feat by leading Banfield back up to the top flight, before winning four major titles in as many years at the helm of Mexican giants Chivas, signing off with the 2018 CONCACAF Champions League crown.
That run of repeated success makes him an attractive prosp ect for the AFA. Perhaps even more important is his current status as a free agent, meaning no expensive compensation pay-offs. But while he has tasted success outside of Argentina, Almeyda is yet to really prove himself in the Primera Division.
Sampaoli came into the Albiceleste job with a similar handicap and that negative precedent might just scare off Tapia and Co. when it comes to making a final decision over the identity of the next coach.
Marcelo Gallardo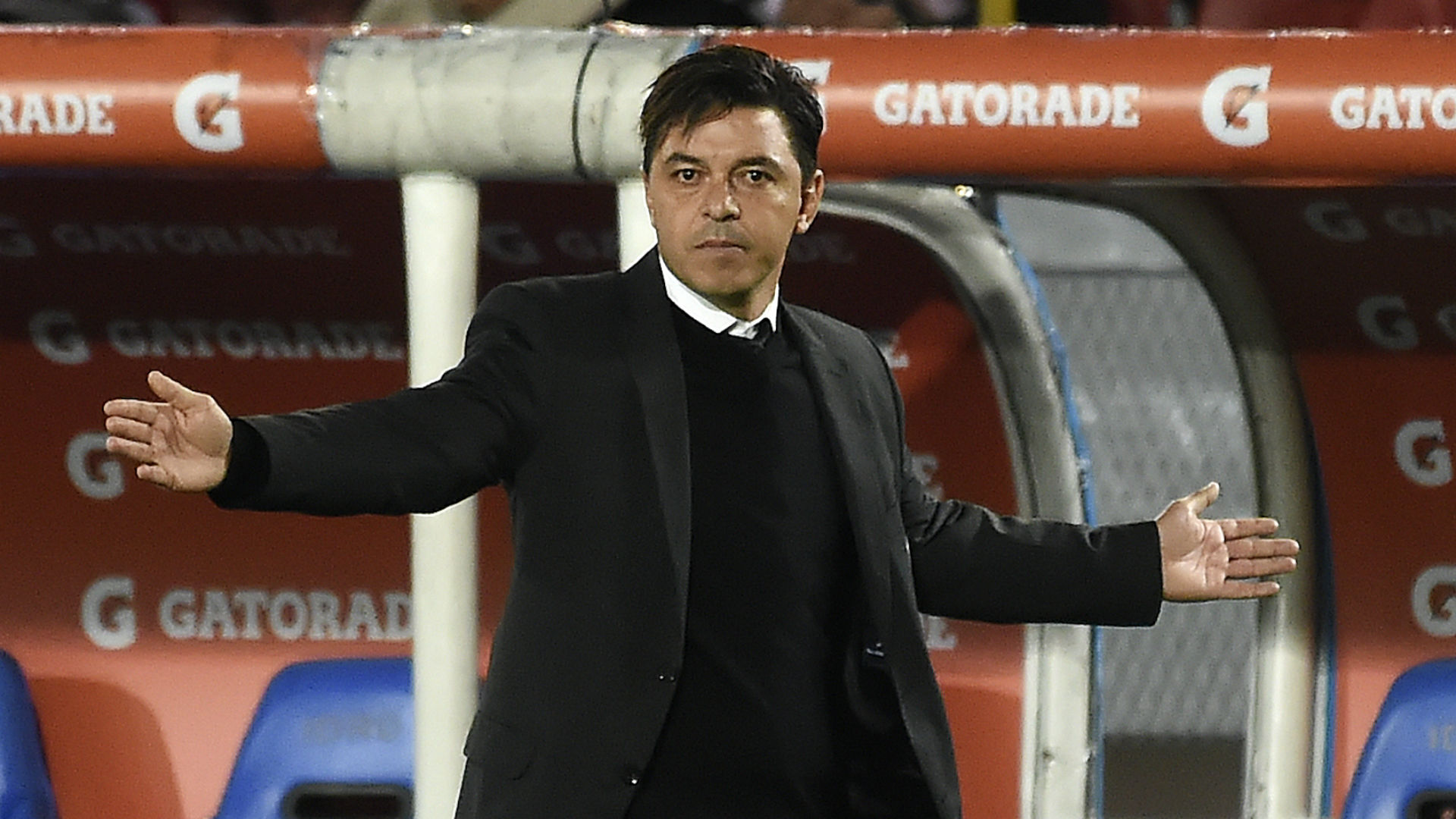 Young, competitive, bold and incredibly successful, River coach Gallardo is the model of everything that is held up to be good and wholesome in Argentine football. The former Monaco playmaker has been in the hot-seat for four years at his beloved Millo, a Wenger-esque spell given th e usual hectic chopping and changing of coaches that usually occurs.
He has stayed that long for a reason. Under his eye River have lifted no less than eight major titles, including the 2014 Copa Sudamericana and 2015 Libertadores. He has done so, moreover, despite suffering a constant exodus of his best stars, rolling with the punches and constantly rebuilding to keep the Buenos Aires giants competitive where others have faltered.
On paper, then, Gallardo looks the perfect candidate. River, however, also know this and are determined to retain his talents for as long as possible.
The coach received an unprecedented four-year contract at the start of 2018, and publicly at least both he and the club are committed to honouring that bond. River president Rodolfo D'Onofrio, too, has a fractious relationship with the current AFA leadership and is loathe to encourage talks that could see his trainer walk away.
AFA spokesman Daniel Ferreira hinted as much in a recent Twitter post, stating that "this AFA will not sit down to talk with any coach who works in one of our clubs with a recently renewed long-term contract".
Jorge Almiron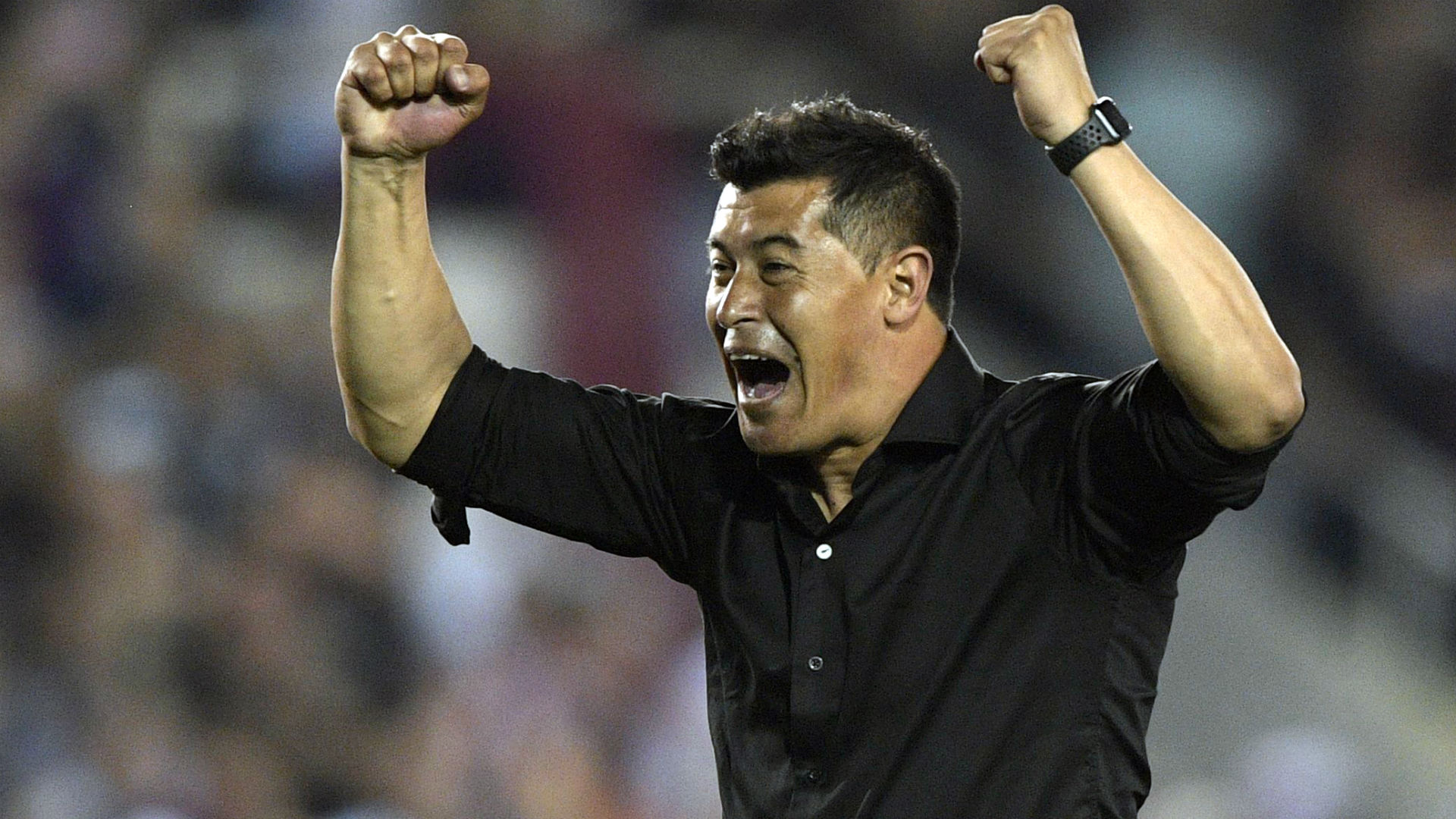 Article continues below
Rather a late entrant into this dance of names, Atletico Nacional's Almiron does however have one powerful ally on his side. None other than the President of Argentina, Mauricio Macri, stated his admiration of the young coach, and the head of state's (and ex-Boca president) opinions tend to be quickly relayed into the AFA through current Xeneize chief and AFA vice Daniel Angelici, a close collaborator.
Almiron came to prominence with unheralded Lanus, whom he took to the verge of Libertadores suc cess in 2017 as they fought their way through to the final. Gremio ultimately won that tie, but Almiron left the club with a sky-high reputation and moved on to one of South America's most prestigious clubs in the Colombian outfit, having also delivered a Primera title for the Granate in a wonderful two-year spell.
Landing the 47-year-old boss, however, will not be easy. Medellin's Nacional have Almiron tied down in a two-year contract, with no prospect of breaking that deal until the end of 2018 at the earliest as the club look to regain the Libertadores title they lifted in 2016. The man himself, meanwhile, has not ruled out the prospect, and his track record in building attractive, attacking sides with limited resources makes him an interesting dark horse for the job.
Source:
Google News Argentina
|
Netizen 24 Argentina