Javier Mascherano: 'I hope Argentina can meet Lionel Messi's standards' Interview Javier Mascherano: 'I hope Argentina can me...
Javier Mascherano: 'I hope Argentina can meet Lionel Messi's standards'
Interview Javier Mascherano: 'I hope Argentina can meet Lionel Messi's standards' By Marcela Mora y Araujo Argentina The Observer Interview Javier Mascherano: 'I hope Argentina can meet Lionel Messi's standards' By Marcela Mora y Araujo The former Liverpool and Barcelona player knows the forward stars draw the eye but feels defensive stability is what will make Jorge Sampaoli's side competitive in Russia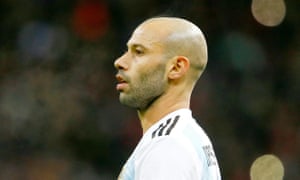 Four years ago, Argentina managed to play seven games at a World Cup for the first time since Italia 90, but lost the final to Germany in extra-time. For a country twice world champions, proud exporters of football talent, it was not without frustration that even staying in the tournament past the quarter-finals had become an elusive task. For a short while after the last World Cup, then, Argentina's success in keeping the nation enthralled until the very last minute was praised, a cause for celebration. And one player in particular became the viral pin-up hero of the day: Javier Mascherano.
"It was a unique experience because we had never lived or experienced anything like what happened in 2014 â€" it was spectacular," an older, wiser Mascherano tells me when we meet in Spain for Argentina's warm-up tour. "The World Cup itself sets the pace and indicates what we can and can't do: we changed the way we played, the system, as we went along, but always with total clarity about what we were doing. That was what led us to the final. The conviction of our idea, of doing things in a certain way, up to the very last minute. And if you look back I think it was Argentina's best match in years."
Juan Sebastián Verón picks his all-time Argentina XI Read more
Mascherano was praised for his tactical intelligence and his face was Photoshopped on to the iconic Che Guevara beret image, with memes claiming he could do anything, solve any problem, doing the rounds. He found himself raised on a pedestal so high that the only way was going to be down.
Of that final loss to Germany, his memory of the game's decisive moment remains vivid. "It was one of those isolated moves when you think nothing's going on and football always ends up proving that every ball is important. The ball comes from th e side and [André] Schürrle manages a cross between Pablo [Zabaleta] and me, it was actually the only space where it could have gone through … and we weren't standing in the best position, and when [Mario] Götze gets it … It was unexpected, a moment in the game where it seemed nothing was happening but ends up giving them the advantage and crowning Germany world champions."
Argentina followed 2014 up by reaching two Copa América finals, but lost both to Chile, on penalties. "When we thought we'd hit rock bottom with the famous three finals â€" not in terms of football, because I think the standard of our game was by far among the highest Argentina has displayed in recent years, but in terms of results and because of the frustration generated by one lost final after another â€" we realised that the bottom was much deeper than we had envisaged."
As he shrugs and tuts about the passage of time, the toll the years have taken, the criticism, his sadness is clear. Speaking with just one other journalist present, the UK-based Argentinian broadcaster Christian Martín, no sponsored backdrops, no PR gatekeepers, he is relaxed and open. Of Argentina's qualifying campaign, he says: "It's hard to find high points. Mostly because throughout the qualifiers we were very inconsistent; we suffered a lot.
"It all started off really badly with a defeat to Ecuador at home, then we went to Paraguay and drew. When we thought we might be able to make the jump, in the matches against Brazil, Colombia and Chile, an actual team started to appear, that's when we went to the other Copa América in the US [the 2016 Centenario edition, with the final staged in New Jersey], and ended up changing manager. After Tata [Martino] everything descended into chaos. Because we weren't getting the results, because we were so needy, so lacking … b ecause we changed manager again after that. There was such a sense of urgency."
It was after that final in June 2016 that Argentina really did descend into chaos: Messi resigned from the squad pitch-side after missing a penalty in the shootout defeat by Chile, while the Argentina FA was placed under Fifa administration following a rigged election, internal disputes and accusations of corruption. Bankruptcy and violence plagued the domestic game. The bottom was much deeper than anyone envisaged.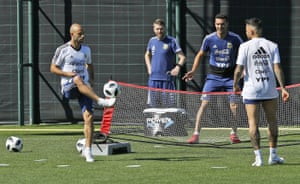 "We were so close to the edge … one match away from not qualifying for the World Cup, it was a Calvary," says Mascherano. "Those of us who have been around for some time have seen the good times and the bad, facing up to the task and doing what's needed along the way … luckily we've come through."
I first met Mascherano shortly after the 2006 World Cup, when he had just signed for West Ham. He was a midfielder back then, a traditional No 5, but he was already aware that his defensive potential might slowly shift him further back. "If you don't watch out you're going to end up in goal any minute," his compatriot Carlos Tevez joked.
Andrés Iniesta: 'I've squeezed out every drop, there's nothing left' | Sid Lowe Read more
Since his move from Liverpool to Barcelona in 2010, he has come to occupy the defensive role more naturally, but also to understand the importance of the post. Argentina's stren gth is often considered to be their forwards but Mascherano disagrees. "For years the talk has been of Argentina's strong point being the offensive side, the attack," he says. "And clearly we do have players with immense talent up front. But I think what has made these recent teams so competitive has been the ability to find a defensive equilibrium."
Russia 2018 will be the 34-yearâ€'old's fourth World Cup. Argentina's most capped player with 143 international games under his belt, he recalls his first World Cup now, fondly remembering the 24-pass goal against Serbia in 2006 with which José Pékerman's team made history. "Things always develop according to the players you field. If I remember right in midfield we had Maxi, Cuchu [Cambiasso], myself, Román [Riquelme], [Javier] Saviola and then [Hernán] Crespo, no? It was a reflection of José's feeling for football. It was a very Argentinian squad, evoking Argentinian football from earlier times … very similar to Maradona's goal against Greece [at USA 94], lots of touches.
"That's a bit what José preached. In the end I think we were all left feeling we could have gone further in that World Cup. It was a squad that could have aspired to more. Germany knocked us out in a penalty shootout, but in a match we arguably deserved to win."
We met again when he was playing for Liverpool and was asked to captain Argentina by Maradona, an unlikely manager of the national team. He then decided to hand over the armband to Messi, adding to his sense of leadership. Defeat once again when facing Germany in the quarter-finals of the 2010 World Cup he describes as "an enormous sadness; our expectations were much higher". By contrast, at club level it was a rewarding time: "Playing in England was a fantastic experience. In Liverpool I felt at home and really thoroughly enjoyed it. That's the truth. The kudos and hierarchy of playing in the Premier League for a football er is huge."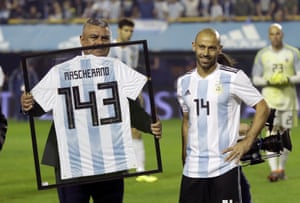 The excellence of his tackles, interceptions and distribution were described by the Guardian's Richard Williams as "sitting in front of the defence controlling the traffic with a calmness and technical excellence reminiscent of Barcelona's Pep Guardiola", a project he would later join and be a part of for eight years.
Although Mascheran o became more entrenched in the centre-back role under Guardiola, he remained for years the exemplar of a player able to play at the back, recover, save awkward situations and pass the ball forward at the highest level. He also gained experience of sharing the pitch with Messi, a plus for Argentina.
"One wishes for this coming World Cup that Leo can be the best version of himself, because the aspirations of the whole squad depend on this version. It's clear Leo conditions our collective performance; I hope as his teamâ€'mates we can meet his standards."
World Cup 2018: complete guide to all 736 players Read more
Ready to kick off the World Cup with a raw squad and a manager, Jorge Sampaoli, parachuted in late in qualifying, Mascherano is conscious of the difficulties Argentina face. "There was such an urgency when Jorge stepped in â€" we have been varying and tweaking and now I believe our aim is to become a much more solid team, which is what we 're going to need.
"Take care to be defensively strong, which is what has made us go far in international competitions, and from there hope the quality starts to flow â€" because we do have quality players."
He is keenly aware that Argentina have been drawn in a tough group. "Iceland are a new team in the sense that they maybe don't have a long football tradition but they're a generation of players that have made history recently, with spectacular success at Euro 16, and qualifying ahead of Croatia.
"Croatia are a first-class side with top players, especially in the midfield, such as Modric, Brozovic, Kovacic, Rakitic … Perisic; a team to watch out, quality squad. And Nigeria are quite well known to us, we've always met in the last World Cups. They're tough, not just because of their physical power, but because their disorgan isation has the effect of disorganising you as a rival. And that's when teams like ours suffer the most â€" in disorder."
Fully aware that for him and a few others, this World Cup presents the last chance of winning something big with Argentina, he stresses that the key is: "One step at a time. No need to rush things, the World Cup itself guides you, gives you signals on the go … it's very important to start well because of the peace of mind, but we mustn't look further than the first match."
He is now facing the dusk of his playing career, ending the season in China, far from his family. Rather than proclaim Argentina will be victorious, he has a measured view of what can now be achieved in Russia. "This is football: one day you win, one day you lose and there's a very fine line between them." It is hard to argue with my colleague Christian Martín's view: "Masche is our leader. The finest example of his generation. A warrior facing his last gr eat stand."
Topics
World Cup 2018
World Cup
interviews
Share on Facebook
Share on Twitter
Share via Email
Share on LinkedIn
Share on Pinterest
Share on Google+
Share on WhatsApp
Share on Messenger
Source:
Google News Argentina
|
Netizen 24 Argentina