Argentina: Man sentenced to life for brutal transgender murder Latin America & Caribbean ...
Argentina: Man sentenced to life for brutal transgender murder
Latin America & Caribbean Latin America & Caribbean Argentina: Man sentenced to life for brutal transgender murder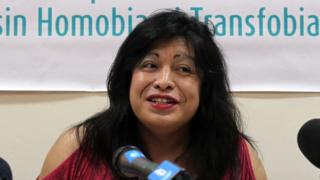 A court in Argentina has sentenced a man to life imprisonment for the brutal murder of high-profile transgender activist Diana Sacayán.
She was stabbed 13 times in her Buenos Aires flat in October 2015.
Gabriel David Marino, 25, has become the first person in Argentina to be sentenced under new legislation on crimes against transgender people.
Human rights groups say Latin America accounts for the greatest number of transgender murders worldwide.
Mr Marino said he had sexual encounters with the victim in exchange for illegal drugs. But he denied killing her.
'Light that guides me'
Ms Sacayán was a well-known activist for lesbian, gay, bisexual and transgender (LGBT) rights.
She was the first Argentine citizen to receive a new national identity card after applying to have her gender changed.
Argentina's president at the time, Cristina Fernández de Kirchner, handed her the card personally.
Ms Sacayán was 40 when she was killed.
The trial at the Supreme Court building was followed by dozens of friends, relatives and fellow campaigners.
"My sister was an example and she taught me to fight for my rights. She is a light that guides me," her sister, Sasha Sacayán, told Clarín newspaper.
Central and South America accounted for 74% of the 2,016 murders of transgender and gender-diverse people reported worldwide between January 2008 and December 2015, according to activist group Transgender Europe.
Top Stories
Trump threatens huge new tariffs on China
The threat escalates a tit-for-tat trade row with Beijing over US tariffs imposed on Chinese goods.
19 June 2018
'Not bad guys' - US teens playing border patrol
18 June 2018
Rapper XXXTentacion shot dead in Florida
19 June 2018
Features
US and Germany compared on immi gration
How trying to stay cool could make the world even hotter
The untold good news story of America today
The Rolling Stones' rock'n'roll pilgrimage
How can a snake eat a human?
The troubled talent of murdered rap star XXXTentacion
Video
This Korea war veteran has question for Trump
BBC Travel: A country that doesn't want to be happy
Video
What makes Hereditary so scary?
Why you can trust BBC News
BBC News Services
On your mobile
On your connected tv
Get news alerts
Contact BBC News
Source:
Google News Argentina
|
Netizen 24 Argentina