Argentina is 'a museum of egomaniacs' says official as country appeals to IMF Argentina Argentina is 'a museum of egom...
Argentina is 'a museum of egomaniacs' says official as country appeals to IMF
Argentina Argentina is 'a museum of egomaniacs' says official as country appeals to IMF
Cabinet chief Marcos Peña warns against lure of populism during visit to London as government faces economic headwinds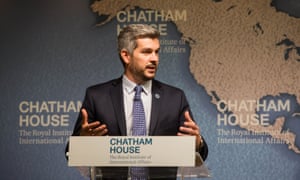 Argentina "is a museum of egomaniacs who said they were saviours of the country and failed one by one" the country's cabinet chief said on a visit to London, as he insisted that his government's appeal to the IMF to fend off a currency crisis will not affect the country's growth.
Marcos Peña said the centre-right government of Mauricio Macro will reach a deal with the IMF that will accelerate existing plans to cut the fiscal deficit next year.
'A runaway crisis': Argentina activists aid shanty towns state has left behind Read more
But Macri is facing growing discontent at home after failing to deliver on his campaign promise to kickstart the economy with massive foreign investments, and observers wonder if his administration might not eventually end up on Argentina's roll call of failed saviours.
Macri's government has been praised internationally for its efforts to stabilise Argentina's economy but has faced widespread protests at home over its austerity policies.
Meanwhile, huge home utility hikes are wearing the patience of Argentina's middle class thin and have made a mocker y of his campaign promise of "zero poverty".
Amid soaring interest rates and inflation â€" and a 20% fall in the peso â€" Macri was last month forced to go to the IMF to obtain a $30bn credit facility.
Market turbulence across a range of emerging economies was largely prompted by investors' flight to the dollar in anticipation of high US interest rates.
Peña said the shock underlined the degree to which the Argentinian economy is exposed to external events.
He said: "That exposure is a rule for everyone today, but we are very conscious of vulnerability to external events. We are living in an accelerated time of globalisation. We think it is going to be exponential in the next decades, but we are positive about that.
"No one can guarantee stability at a time of such deep change. As a country we have a PhD in volatility. We have now got to get a PhD in institution building and relying on our own strengths."
Although the IMF is d eeply unpopular in Argentina â€" where it played a central role in the 2001 financial collapse after insisting on harsh austerity measures â€" Peña said the current return to the Fund was not comparable since "there is a synchronisation" about how to address Argentina's problems â€" including the need to cut the fiscal deficit faster than planned next year.
Peña said that any bailout package will be compatible with growth and poverty reduction targets.
He said: "We do not intend for one second to blame our problems on the IMF or anyone else, if what is proposed is good for our economy."
Peña added the government would meet its fiscal deficit target of 2.7% of GDP this year, down from 3.2%.
But he denied the turn to the IMF was unpopular, saying only an ideological minority opposed what was a preventive measure.
Fear and loathing in Buenos Aires: will Argentina's IMF gamble pay off? | Larry Elliott Read more
Neverthless observers now forecast tougher than expected elections in October next year. Large anti-IMF protests in Buenos Aires last month, and political resistance to cuts in energy subsidies, could be harbingers of future trouble.
But Peña said one of Macri's main tasks was to normalise a country after too much turbulence and volatility, claiming that the administration was putting an end to a culture of power that depended on saviour figures and populism.
Peña was in London to meet British cabinet ministers, evaluate the chances of a bilateral Mercosur-UK trade deal after Brexit, and set out Argentina's agenda for the G20 summit in Buenos Aires in November.

Peña, who also laid a wreath in honour of all the soldiers who fell in the Falklands conflict, said that differences over the islands need not sour relations and trade between the two countries.
Topics
S hare on Facebook
Share on Twitter
Share via Email
Share on LinkedIn
Share on Pinterest
Share on Google+
Share on WhatsApp
Share on Messenger
Source:
Google News Argentina
|
Netizen 24 Argentina